It's that wonderful time of the year again... And what better way to kick start the holiday season than with a giveaway! :)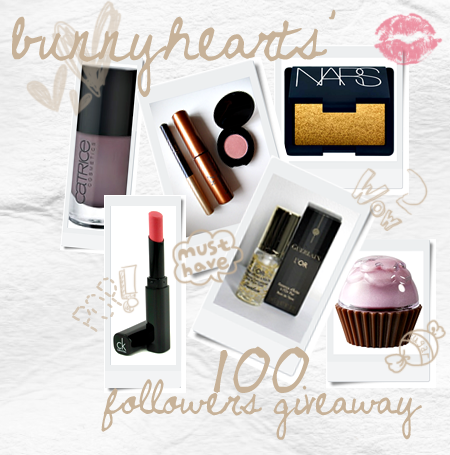 I'll be giving away...
NARS Single Eyeshadow in Etrusque (Limited Edition?)
Catrice Ultimate Nail Lacquer in 220 Lost in Mud
Calvin Klein Delicious Truth Sheer Lipstick in 215 Retro
H&M  Lipgloss in Strawberry Cupcake
Guerlain L'Or Radiance Concentrate with Pure Gold Makeup Base in a 5ml vial
Mini No7 Extreme Length mascara in Black
Mini No7 Amazing Eyes Pencil in 10 Brown
Mini Stay Perfect Eyeshadow in 50 Tender
Everything to help you transform into a glam Golden Goddess for all the upcoming festivities :)
What do you have to do to win?
Just tell me what's on your Christmas wishlist!
Post an entry on your blog telling me all you want for Christmas... be it 1 item, or 100 items! It can be a one word post, or picture heavy! Be as creative (or uncreative) as you want and have lots of fun :) Remember to link back to my giveaway too!
And *coughcough* you could also leave your browser window open at your wishlist for people to stumble upon... ;)
Guidelines
This giveaway will be open to 

all Singaporean

readers (even non-Onsugarettes)
Meet-ups only
Post 1 blog entry about your Christmas wishlist (with a link to my giveaway)
You can enter 

3 times a day

Closing date: midnight on 5 December
Comment Format
Name:
Email:
Link:
Good luck ladies! :)