I was rushing out of the Watsons at Tampines 1 today, when this little beauty sprung up in the corner of my eye...
CRACKLE NAIL POLISH, OMG!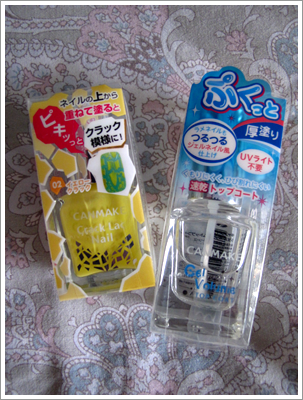 It took me ages to decide which colour of CANMAKE Crack Lac Nail to get. I think I want them all. Tsk.
Basically this CANMAKE nail polish series comes in "sets"... there's Step 1, which consists of 3 base colours (hot pink, pastel green and pastel purple). Then there's Step 2, which consists of 3 crackle colours (hot pink, pastel yellow and navy blue).
You can opt to buy them separately and mix-and-match as you please, but the packaging gives you an idea of what to pair the polish with. The base colours are S$8.90 and the crackle colours are A WHOPPING S$14.90.
Since I was feeling a tad emo, I picked up the Gel Volume Top Coat at random. And then I got a mild heart attack at the cashier, when I discovered that the Top Coat cost A SERIAL KILLER WHOPPING S$17.90!!!
Dang Watsons and their failure to stick price tags on everything.