This update's largely written for Hazel, whom I'm currently trying to tempt ;)
The Clarisonic unboxed...
While I was eagerly awaiting my Clarisonic to finish charging, I lived vicariously through the many reviewers on Makeupalley.
After the reading all the glowing reviews, I was MISERABLE. I was thinking; "ohmygawwwd I've been cheated!!!"
Cos... how can aaaaaaaaaaaalllll of these people have such amazing, life-changing experiences with their Clarisonic?!!!?!!??! I was almost certain that the Clarisonic company paid off 700+ people to rave about the product. Clever buggers.
Also, I took statistics/research methodology... and I don't trust ANY kind of "scientific study results" published by makeup/skincare/etc brands. *cough* This coming from a girl who'll buy anything if it's got fabulous packaging.
Truthfully... after my first (finally!) use, I was completely down in the dumps. I didn't feel the fabled, magical transformation after the first use. I didn't have baby-butt skin, or a poreless complexion... I just felt........ a little bit cleaner, that's all. Nothing a good manual exfoliation couldn't accomplish.
*cry*
But then.
I noticed a change in Mr C's skin on his second use. His skin went from rough and dull to (seriously) luminous and smooth. And from then on, his skin just kept improving and improving... his pores look smaller, his face looks brighter and his skin is just so freaking sooooooft!
The visible change is taking a bit longer for me... Maybe cos I have good skin already? Lol. As if. I just think that I haven't found my perfect system yet - my current cleanser is too drying for me (but it's ok on Mr C) and I need to figure out my optimum personal timing/speed.
But I'm not saying that I don't see any change at all.
My skin tone is better. It's becoming glowy and bright!
My skin is getting insanely soft and smooth. I know I said that my cleanser is drying me out... so I have really soft but simultaneously flaky skin? :( Need a new cleanser ASAP! Lemming for the Philosophy Purity cleanser which is supposed to be divine with the Clarisonic.
My skincare sinks in extremely well. Usually when I wash my face in the morning, I feel some leftover product residue that failed to sink in overnight... but I don't feel any residue lately.
My skin is incredibly clean. It's almost as if an entire layer has been lifted off my face. I suddenly feel uncomfortable wearing my usual LF because it feels TOO MUCH! for my skin. And at night, I even feel quite sensitive to my skincare working/tingling on my face.
My skin is getting clearer... a feat which I previously thought was impossible.  And I have to say... the Clarisonic really does clarify and unclog VERY WELL. The stubborn blackheads and white heads on my nose and chin are slowly disappearing - they've been there for years, so I thought I'd have to live with them forever. And I also have random bumps which usually takes months of intensive and expensive masks to unearth, but they're now actually emerging within a matter of days.
I'm actually a bit embarrassed to tell people that I'm using a Clarisonic... because they'd zoom in on my face... and the biggest change that has happened since I've started using the Clarisonic... is that I'm breaking out right now. It might be due to hormones. But at least 1) the breakout clears up much faster than usual 2) it happens in my clogged up areas. So I believe that my Clarisonic is helping me clear my skin, and doing so very quickly! It feels SO GOOD to see all the uber giant blackheads going away.
I initially bought the Clarisonic to help me clear the bumps on my face, because I'm extremely self-conscious about them. I'm super glad to say that Clarisonic = MIRACLE WORKER when it comes to cleansing.
I feel like I should have just bought the Clarisonic months ago... it's certainly more effective at giving me better looking skin than my Laneige/Guerlain masques and numerous foundations.
All in all... these are pretty encouraging results for only having used this device for a week. I'm quite confident that I'm well on my way to gorgeous skin! :)
If you're still on the fence about skincare in general, I'd really urge you to start now. I used to have really nasty skin, and thought that foundation could cure it all... but piling all that foundation on just made me look even worse. Now that I have relatively better (but far from perfect) skin, my makeup goes on so much better and looks better too. I'm really speaking from a "been there done that" stand point when I say... look after your skin!!
Of course, if you already have perfect skin, then I hate you because I just spent a bomb on a Clarisonic to get pretty skin like you.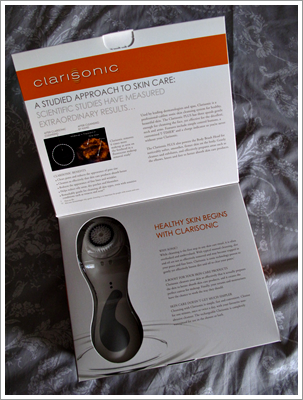 "buy me... buy mee... buy meeeeeeeee"
ETA: And... well... as much as I love my Clarisonic, I wouldn't recommend it to EVERYBODY. Because, if you already have decent skin, it's not worth spending your money on. Skin care is a highly personal thing, so you'll really need to assess your skin's needs to see if it's truly worth the hefty price tag. For me, I have zero regrets.