I was pretty surprised that there's so little information available on how to care for Clarisonic brush heads... or at least there doesn't seem to be an official, concise guide on the Do's and Don't's. Maybe the general consensus is that the brush is disposable anyway...? Hmm.
There's a little guide on the Clarisonic FAQ actually...
Once a week, wash the brush head and the handle separately using warm soapy water to remove any residue buildup. The handle is sealed and fully waterproof. NEVER attempt to open the brush handle for any reason. To dry the brush after use, rub the brush head against a towel for 5-10 seconds while the Clarisonic is powered on. DO NOT use abrasive cleaners or chemicals to clean any part of the Clarisonic. DO NOT put any part of the Clarisonic in a dishwasher. 
UNPLUG the charging cradle before you clean it. After unplugging the cradle, wipe it with a soft, damp cloth. DO NOT immerse the cradle in water.
But it doesn't seem enough for me. Some of you may be fine with it, but I wanna really make sure that my brush stays as pristine as possible. After all, I'm rubbing it into my face every day....
So I did a quick Google search and found some helpful tips and advice from the Essential Day Spa forums - here and here.
This post is just a pictorial demonstration/reiteration of what's already been said on EDS.
Items needed
Hydrogen Peroxide Solution (3%)
A small container, just big enough to fit your brush head
Your brush head (just call me Captain Obvious today)
I purchased the Hydrogen Peroxide Solution at Watsons for S$3.50.
I've read other tips on EDS, where the most common suggestions are the 6% HP concentration, alcohol or just plain baby shampoo or hand soap.
I chose 3% over 6% because it was the only one available at that outlet (heh), and cos hydrogen peroxide is bleach. I don't exactly want to be dowsing my facial tools in strong concentrations of bleach.
I didn't use alcohol because I read somewhere else that alcohol can degrade the plastic. I'm not sure how true that is, but I'm not willing to take a chance. Those brush heads cost S$42 a pop!
And as for baby shampoo or hand soap... Like I said, you'll be using your Clarisonic almost every day. Personally I'd want to give it a really good deep clean once in a while, especially if it's spending 99.9% of the rest of the day out in the open and ESPECIALLY if you're going to leave it in a mouldy bathroom. Plus psychologically, I need something stronger than normal soap :(
Alternatively, I've read that some people use...
Antibacterial soap, which might be more effective than normal soap
Makeup brush cleanser
Apple Cider vinegar
Nursery sanitizer
UV sanitizer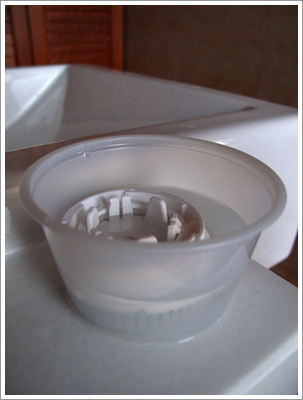 Step One
Submerge the brush head in your Hydrogen Peroxide solution.
I've read posts on EDS where women dilute the solution or just spray it directly onto the bristles. Since I wanted to really clean my brush, I let it soak in just enough solution to completely cover the bristles and a little bit more.
Step Two
Wait a while, then rinse the brush head.
Since I'm not sure if there are any ill-effects to soaking the brush in hydrogen peroxide, I only left my brush head in it for 5 minutes. I've read that other people do up to 10. It's all up to you, I guess. 5 was all that I was comfortable with.
Step Three (optional)
Submerge the brush in hot - but not boiling - water.
I was still a bit paranoid and iffy about cleaning my brush with bleach. So I soaked it in very hot water after rinsing it clean of the hydrogen peroxide. I didn't use boiling water, because it might actually cause the plastic to warp.
This is actually what the Sephora SA recommended I do with my brush... she apparently takes the brush head off after each use and leaves it in a cup of hot water until she needs to use it again...  Hmm... like dentures.... Anyway. Personally, I would keep my Clarisonic dry after every use.
This is what I do on a daily basis...
After each use, I uncap the brush head. Then I take a dry towel/tissues and GENTLY squeeze the water out of the bristles while reshaping it at the same time. Then I dry the handle completely.
I then leave the entire unit to dry overnight in front of my air conditioner. You don't have to do that, just leave it in a relatively dry place.
The whole reason I'm so careful about drying the whole Clarisonic is cos water can collect behind the brush if you don't store it properly... And someone on Makeupalley found out the hard way when she changed her brush head after 4 months of use and discovered that there was mould growing behind her brush D:
Whew ok, hope that helps. If you have any questions/better suggestions, drop me a comment please! :)