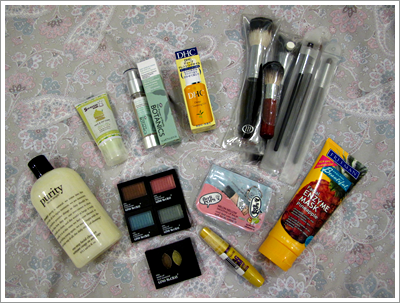 What a tiny haul compared to my last one, right?
First row, left to right:
Philosophy Purity Made Simple Cleanser
I visited the Philosophy counters at Siam Paragon and Central Chidlom... IMO, it's not worth it to buy Philosophy in Bangkok. You'll be quite disappointed. The range is limited, and the stocks look quite old. Plus the prices are INSANELY marked up. But I bought it this bottle of Purity in the end cos there were a couple of discounts going on. No regrets though, cos I LOVE THIS. Mini review coming soon :)
Sweetie Dude Hand & Nail Cream in Melon Milk
I think this is a local Bangkok brand. I didn't want to get it at first cos the product seems a little dodgy... but Mr C told me to use it to decorate my nightstand since the packaging is so cute. *shrug*
Boots Botanics Eye and Lip Correction Serum
BEST. LIP BALM. EVER. Mini review coming soon.
DHC Deep Cleansing Oil
Love also.
Random brushes from Platinum Fashion Mall
Second row, from left to right:
Gino McCray Eyeshadows
Berli POPS Melon Mellow Smoothie Lip Balm
I picked this up from the Gourmet Market at Emporium. This is a very cute range of "food-centric" products. The line consists of lip balms, glosses, foundations and face wash.
Maybelline The Magnum Volum Express
I bought the wrong shade! Woe.
Freeman Facial Enzyme Mask Pineapple
Fabulous. Mini review to come soon!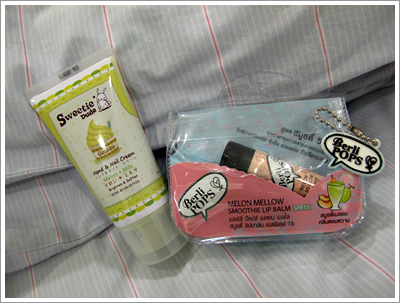 Close up of my melon-y goodies.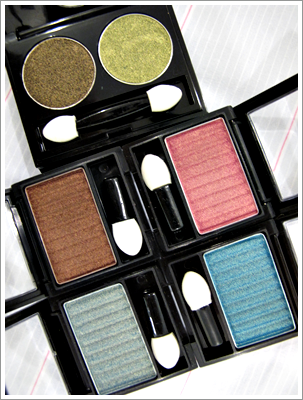 These eyeshadow singles + duo are from Gino McCray. I bought them at the Beauty Buffet at MBK, but I believe that all BBs have the exact same stock.
I discovered - much to my joy - that there are BB outlets even within the BTS stations now! There's quite a decent sized one at Emporium Shopping Mall, which is a stone's throw away from my place. Yay!
The eyeshadow duo was about 280฿, the singles were 2 for 320฿.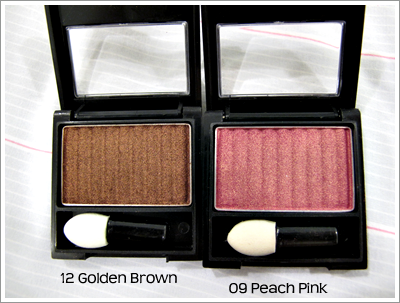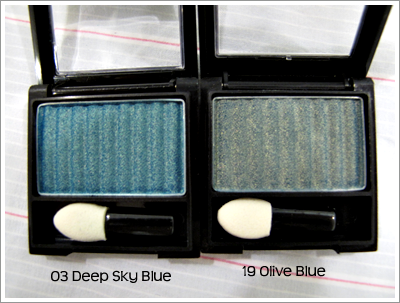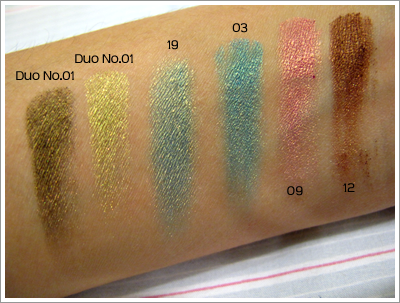 The pigmentation of these are spectacular. These swatches are 1 swipe over bare skin.
However, the blues stained my skin, even when I used my regular Shiseido Aqualabel Deep Cleansing Oil.
Plus I'm a bit disappointed with their performance. I tried blending 19 Olive Blue over a gold eyeshadow, and it got extremely muddy and the blue faded after a while :( Maybe I have to use it directly over a primer next time.
But urgghhhh how beautiful are these colours ;_______;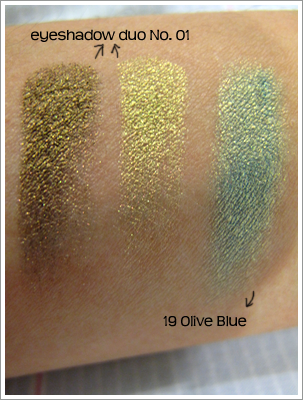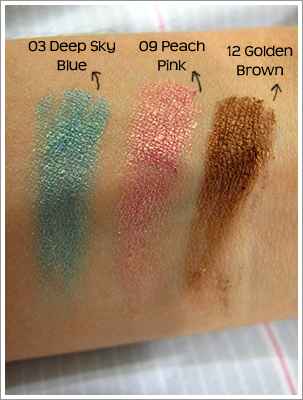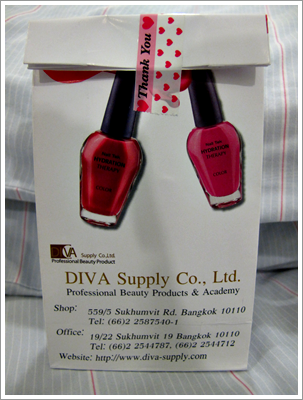 Further down my road (I live in an AWESOME area of Bangkok) is a heavenly mani/pedi place. It's called Take Care Beauty and there are outlets even in Siam Paragon. A normal manicure and pedicure costs about S$40.
There's a section of the salon which sells various nail supplies. They have PA, OPI, Color Club, Orly, Tins, Seche Vite, Nail Tek... and I can't remember what else. Prices aren't cheap.
The address is listed on the packaging, as seen in the picture above. The closest BTS station is Phrom Phong. You exit on the side where Emporium Shopping Mall is, then go down the staircase on the side opposite from Emporium. Once down the stairs, turn left and keep on walking along the main road.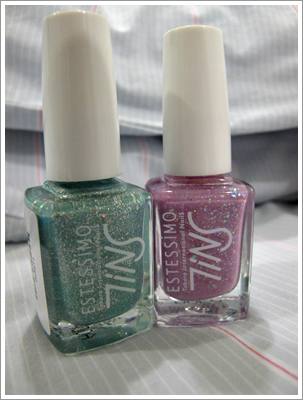 I bought these two on 20% off. 013 the relax mint on the left, 049 the dreamy magic on the right.
These eyeshadow and face brushes are from Magique at Platinum Fashion Mall. All were under $20. The eye brushes are great - soft but still firm enough to blend well. Plus they're non-scratchy :)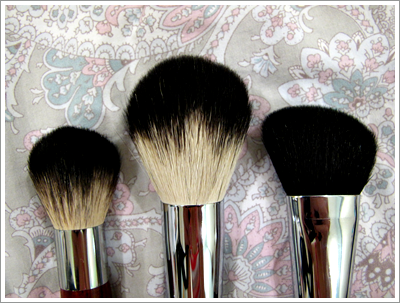 The black angled brush was by far my favourite - soft and very dense. But it shed like crazy when I washed it ;___;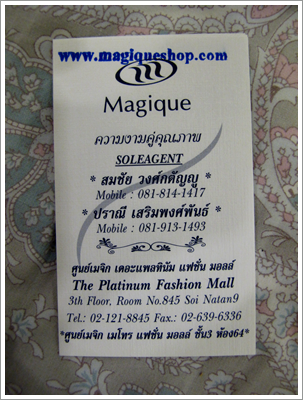 This is the address for Magique.