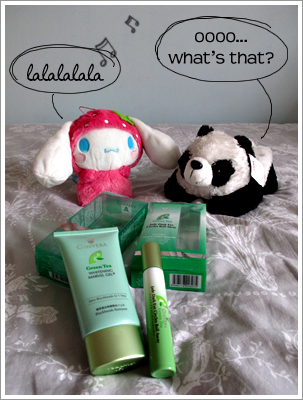 One day, Cinamoroll and Panny took a walk across Bed Island and discovered something interesting...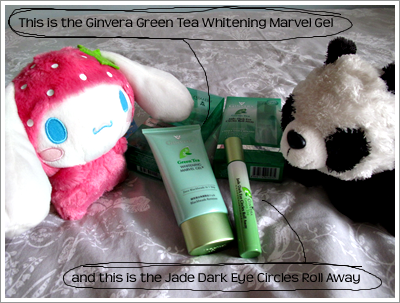 ...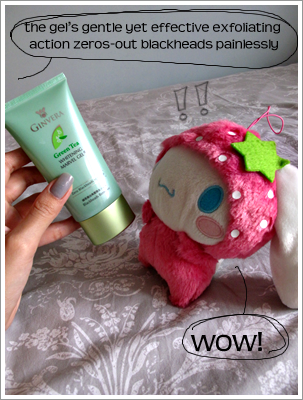 Could this marvelous gel actually help Cinamoroll to get rid of the persistent dots on his head?!
Ginvera Green Tea Whitening Marvel Gel
Ginvera Green Tea Marvel Gel works by specifically targeting the dead skin cells, dissolving and removing the cornified layer of dead skin on the top most epidermis layer. This gentle yet effective exfoliating action zeros-out blackheads painlessly and helps remove deep layers of dead skin. When the dead skin barrier is removed, the new skin underneath is revealed, allowing your skin's healthy radiance to glow from within. It also helps in oil control to help you stay shine-free the whole day!
How Marvel Gel Works
The skin undergoes metabolism and results in the build up of dead skin barrier on daily basis. Exposure to pollution and dirt every day together with the improper removal of makeup and excess sebum will also cause the pores on your skin to be clogged up and results in the formation of whiteheads and stubborn blackheads. In other cases, bacteria infection might also cause inflammation of the skin, leading to skin problems like pimples and acnes. The dead skin cells barrier also obstructs the absorption of skincare products applied subsequently, putting them to waste. In addition, your makeup would not be able to glide on smoothly and might even appear cakey. Thus it is important to remove the dead skin barrier daily for a healthy glowing complexion free from blackheads!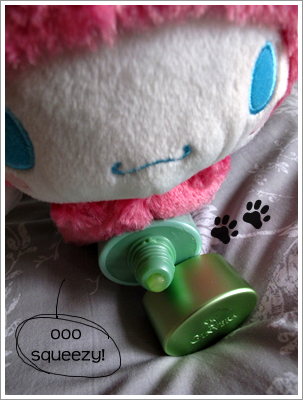 Cinamoroll loves the tube! Easy peasy squeezy. Plus the metallic cap is pretty :3
The Gel is light green and smells like... freshly cut grass. It spreads easily and doesn't take much rubbing before it turns into flakes...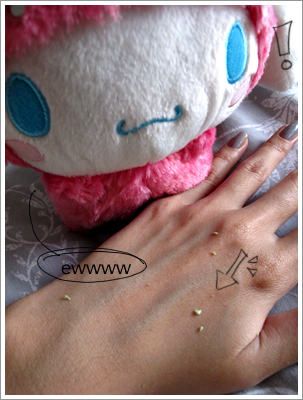 After using the Marvel Gel daily for 2 weeks, I was ready to tell Cinamoroll all about my experiences with it... Ginvera says that the Marvel Gel has 10 Amazing Efficacies, so I thought I'd review it claim by claim...
The 10 Amazing Efficacies
1) Helps soften the cornified layer and gently remove the dead skin barrier to instantly reveal a brighter finer complexion.
My face definitely feels soft and smooth after use... and I've noticed that my complexion does look somewhat brighter
2) Effectively removes blackheads easily and painlessly in just one step.
I have very stubborn blackheads, and this failed to eliminate them in one step/usage.  It took 2 uses for my blackheads to look significantly smaller and even then, I didn't feel like my pores were especially deeply cleansed... But I do appreciate that this helped to painlessly diminish the appearance of my blackheads.
3) Regulates and helps control sebum secretion for a shine-free complexion whole day long.
Didn't have this effect on me.
4) Whitens and evens out skin tone. Effective in helping to fading pigmentation, spots and acne scars over time.
Although my skin tone definitely looking somewhat brighter as mentioned, 2 weeks is too short a time to see if it can successfully fade away all my spots.
5) Refines and contracts the appearance of pores to reveal finer, smoother skin.
Nope, no difference in pore size :(
6) Deeply cleanses pores and helps prevent the onset of skin problems like pimples and blemishes.
My skin feels squeaky clean, but it didn't really help prevent a huge breakout!
7) Helps remove oil seeds
8) Changes dull and rough skin to a smooth complexion, allowing makeup to glide on easily and adhere better to the skin.
Yup, it gets rid of my flakies very very slowly. It's not like common manual grainy scrubs, which lift the dead skin around, so you're left with a big patch of flakies. This one actually does feel like it melts into the existing dead skin and peels it off gently.
9) Helps stimulates skin metabolism, skin looks younger and more supple
My skin does look a bit fresher, but maybe it's cos it looks brighter/whitened?
10) Allows better and faster absorption of skincare products that is applied subsequently
Didn't really notice a huge difference in rate of absorption, but then again, I've been using my Clarisonic prior to using the gel (I've stopped while testing it). So  someone with worse off (if it's possible) skin than me might feel a huge difference.
All in all, the Marvel Gel is a brilliant daily mild exfoliator. I've been using it daily and experienced no aggravation or breakouts whatsoever. It keeps skin feeling extra clean and pure, but failed to completely remove all my blackheads/flaky skin in one fast step. There IS a difference, but it's small and slow to appear. And 2 weeks later, my pores are still pretty clogged. Is it worth the extra minute? I guess long-term maintenance would be the key to pretty skin  with this gel :) But for me, it doesn't live up to many of it's claims (and a lot of the efficacies seem somehow.. repetitive and forced?)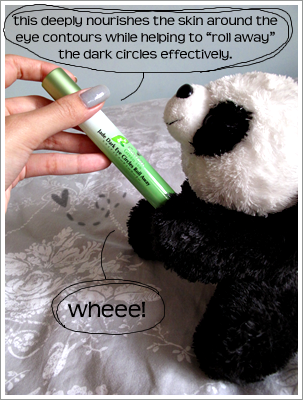 Could this miracle serum roll away Panny's dark circles??
Discover the miracle of the Jade Dark Eye Circles Roll Away
Jade is a very good massaging medium as it contains trace minerals that is beneficial to the skin. Through massaging using the unique Jade ball, energy will 'transmitted' to penetrate into the skin for a brighter eye contour over time. Blended with additional Bio Energy ingredients such as Bio Energy Fluid, Bio Rice Fermentation essence, Royal Jelly as well as various precious herbal extracts like Ginseng and Pomelo, the Bio Jade Dark Eye Circle Roll Away deeply nourishes the skin around the eye contours while helping to "roll away" the dark circles effectively.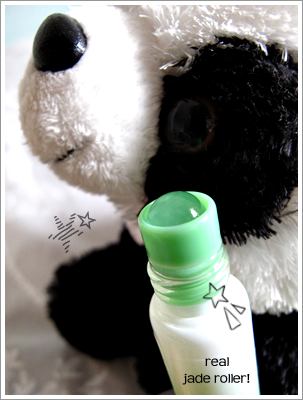 Jade – Not just an ornament, but an effective ingredient
Jade is precious gem common in the East. Besides using it as an ornament, it is also believed to have additional beauty and health benefits due to the ample amount of energy within. Therefore, it is commonly used as a massaging tool to enhance health and beauty, especially on the face. According to ancient Chinese medical book, "Jade has cooling properties. It can help to 'dissolve toxins', nourish skin, improve circulation, eyesight and energize the brain. Due to the emission of energy, Jade is believed to have unique purification and calming properties as well. " In modern scientific studies, Jade is found to contain trace minerals that are beneficial to the human body. Through massaging using Jade, this energy can in turn be "channeled to the skin and body" to help nourish and beautify the skin.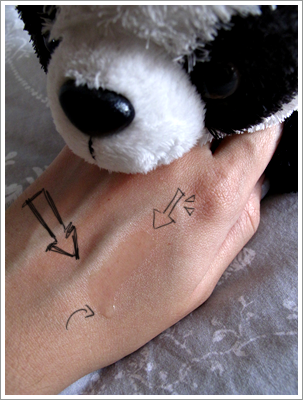 The serum comes out easily from the roller, and it has a soothing (but strong) floral scent that lingers for ages. The serum spreads and sinks into skin easily, and is invisible once on. Best of all, it doesn't sting even if it gets into the eye (I tried!). You only need a bit at a time, so the 15ml tube will likely last you forever. But since the serum flows out so freely, it's easy to overapply!
Jade Dark Eye Circles Roll Away
Rolls away dark eye circles over time
My eyebags definitely looked slightly lighter upon first use. The circles faded slowly over 2 weeks, but haven't totally disappeared. The change is significant enough for me to believe that it works though.
Brightens & firms eyes contours
There's an immediate tightening effect after application, but I can't really tell if it firms a lot since I don't have very saggy skin.
Helps prevent and minimize the appearance of eye bags, crows feet and fine lines
My fine lines looked less and less visible over time and there was a significant decrease in puffiness. 
With a more nourished and revitalized eye contour, eye makeup application becomes easier!
The serum remains tacky for a long time after application, but it doesn't ball up under make up... in fact, my concealer stops sinking into the fine lines around my eyes!
I really love the jade ball the most... it stays cool and refreshing even on the hottest of days - no need to store the serum in the fridge where it might get forgotten!  Plus the jade has antibacterial properties - there's no need to fear that it gets contaminated with use. It's also firm and rolls easily and smoothly.. the overall experience feels like a gentle and relaxing massage.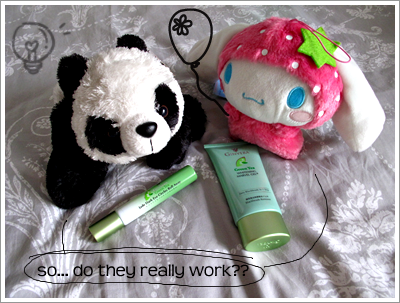 Well Cinamoroll, I have bad news for you... I don't think the Marvel Gel is super good at getting rid of blackheads (words from a Clarisonic convert), but I really love the Jade Dark Eye Circles Roll Away, Panny!
I think that the Roll Away lives up to more claims than the Marvel Gel...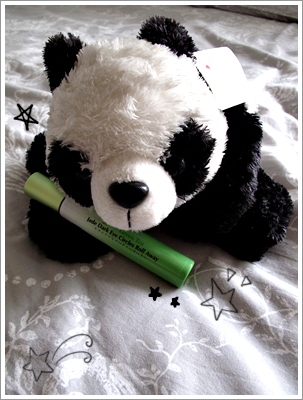 *muahahahahaa* Here's happy Panny!
But... uh oh...
Poor Cinamoroll is doomed to have a spotty head!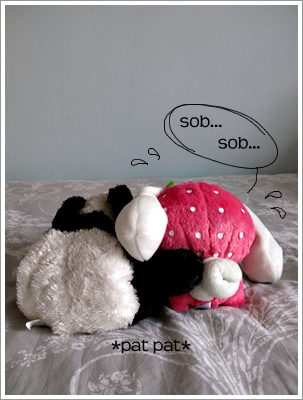 ***
Hehe hope you enjoyed that post. My legion of stuffed toys are always staring at me while I take product photos on my bed, so I grabbed the most appropriate 2 to join in the fun :)
As always, skincare reviews are hugely personal, so while all my views are my own (and since this is a sponsored review), you can see if the Marvel Gel actually works for you by redeeming your free sample here...
There will be a facebook contest held in Ginvera's facebook page (http://www.facebook.com/ginvera.sg) from 29/11 - 27/1. Everyone can join, all you need to do is to post your review of Ginvera Marvel Gel on the Facebook page.
The prizes up for grabs are 1 set of Ginvera Jade Eye Roll Away and Ginvera Green Tea Marvel Gel.
3 winners with the best review will be selected each week.
Cheers and good luck! :)